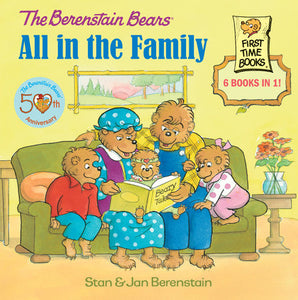 The Berenstain Bears: All in the Family (6 Books in 1)
Celebrate 50 happy years with the Berenstain Bears!
Fifty years ago, Random House published the first of more than 100 books about the Berenstain Bears. Many of the most enduring titles are First Time Books, which explore the myriad issues that are part of family life and growing up, among them sibling rivalry, parent-child relationships, school, friendships, and the lasting values that are the bedrock of family and community life. To mark this milestone anniversary, we've collected six titles about family relationships: A Week at Grandma's; The Trouble with Grownups; The Birds, the Bees, and the Berenstain Bears; Baby Makes Five; The Papa's Day Surprise; and The Mama's Day Surprise.
---
We Also Recommend
---