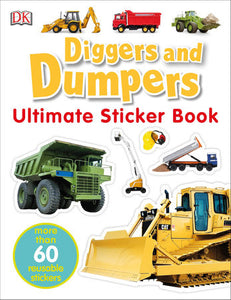 Ultimate Sticker Book: Diggers and Dumpers More Than 60 Reusable Full-Color Stickers
Packed with over 60 reusable stickers of diggers, dumpers and trucks. It's the ultimate sticker book for your little construction worker! 
Big building machines fill the pages of this delightful sticker book. Your child will learn everything about these hard-working vehicles, from excavators and bulldozers to forklifts and cranes.
Do you have a construction-obsessed kiddo in your life? This digger activity book is filled with 60 reusable stickers, fun facts, and interesting activities. Cheerful photographs show these machines in action, digging and dumping away! Experience all the energy and excitement of a day at the construction site.  
Let your little budding engineers dig deep into the world of diggers and dumpers as they expand their knowledge on these powerful machines! They will discover what a dredging bucket is used for, why concrete is mixed in a machine and how tall a dump truck is. 
Taking subjects that kids love, like massive diggers and dumpers, the Ultimate Sticker Book series is packed with activities that are simple enough for children to do independently but engaging enough to keep their interest. 
With tons of fun stickers that can be reused and moved, this adventure book will keep your children entertained as they work through the pages. The reusable stickers are designed to develop dexterity in children, which is an important step in early childhood development.   
The Ultimate Sticker Book
Fact-filled and packed with reusable stickers, Ultimate Sticker Book: Diggers And Dumpers is one that kids will pick up time and time again. It's the perfect gift for children who are fascinated by these earth-shaking vehicles!
Inside the pages of this entertaining activity book, you'll find:
   • Fun activities and fascinating facts about construction vehicles.
   • Giant diggers and powerful dump trucks.
   • More than 60 reusable, easy-to-peel stickers that are perfect for little hands.
---
We Also Recommend
---