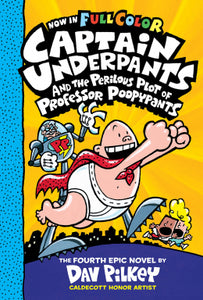 Captain Underpants and the Perilous Plot of Professor Poopypants: Color Edition: The Fourth Epic Novel
Scholastic Inc | ISBN 9780545694704 Hardcover
160 Pages | 5.82" x 8.57" | Ages 7 & Up
The third Captain Underpants adventure like you've never seen it before — in FULL COLOUR!
George and Harold have played a trick or two on nearly everyone at Jerome Horwitz Elementary. When their latest prank causes the school's cranky cafeteria ladies to quit, Mr. Krupp hires a trio of unusual replacements — who happen to look an awful lot like aliens! Will that curtain-caped crusader, Captain Underpants, save the day once more? Or will those outer-space cafeteria ladies have him for lunch?
Raves & reviews:
The critics are CRAZY about UNDERPANTS!
"Irresistible." —Entertainment Weekly
"Call Pilkey . . . the savior of the 'reluctant reader.'" —USA Today
"For every downtrodden fun-seeking kid who never wanted to read a book." —School Library Journal
"Subversively hilarious." —Publishers Weekly
"Celebrates the triumph of the good-hearted." —The Educational Book and Media Association
"It'll make kids laugh until soda comes out of their noses." —Bulletin of the Center for Children's Books
---
We Also Recommend
---