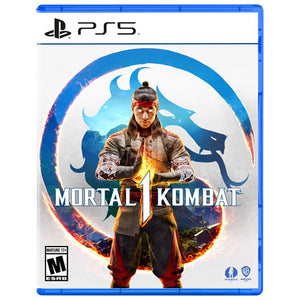 Mortal Kombat 1: Standard Edition + PRE-ORDER BONUS CONTENT (PS5)
The fight for the Earthrealm begins in Mortal Kombat 1 Standard Edition for PlayStation 5. With a new universe, reimagined origins and new Kameo fighters, experience a new beginning, as created by the Keeper of Time and Protector of the Earth Realm, the God of Fire, Liu Kang. Discover a new combat system, as well as fatalities and exclusive game modes.
Explore the new Mortal Kombat universe created by the God of Fire, Liu Kang.
Familiar characters return in new, intertwined stories with never-before-seen interactions.
Choose from a unique roster of Kameo Battle Partners to aid you in battle
Fight in an all-new story featuring your favorite Mortal Kombat characters like you've never seen them before
---
We Also Recommend
---