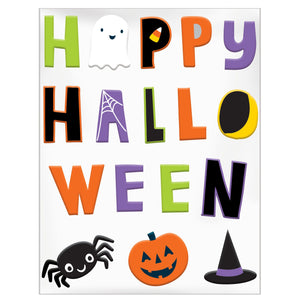 Hallo-Ween Friends Large Gel Clings
Product Description
Create a Cute and friendly halloween scene with these halloween friends gel cling decals. These halloween window decorations feature a friendly Ghost, pumpkin, spider, and letters that spell out "happy Halloween. " easily apply them to glass window panes, then remove them afterwards with no residue.
VIBRANT MULTI-COLOR DESIGN: Add a touch of magic to your Halloween decorations with our Hallo-Ween Friends Large Gel Cling, featuring an eye-catching blend of colors that will make your spooky celebrations come to life!
IMPRESSIVE SIZE FOR MAXIMUM IMPACT: Measuring 17.5" x 12.37", this large gel cling will create an unforgettable Halloween display on any window or glass surface, leaving a lasting impression on your guests and trick-or-treaters.
VERSATILE WINDOW DECORATION: Easy to apply and remove, our Hallo-Ween Friends gel clings can be used on windows, mirrors, or any other glass surface, making it the perfect addition to your festive Halloween décor indoors and outdoors.
DURABLE AND REUSABLE DECALS: Made from high-quality materials, these decals are durable and can be reused year after year, ensuring that your Halloween display remains stunning every time.
UNLEASH YOUR CREATIVITY: Get your creative juices flowing by designing a unique and eye-catching Halloween scene on your windows, combining our Hallo-Ween Friends gel cling with other decorations for a truly unforgettable display.
---
We Also Recommend
---